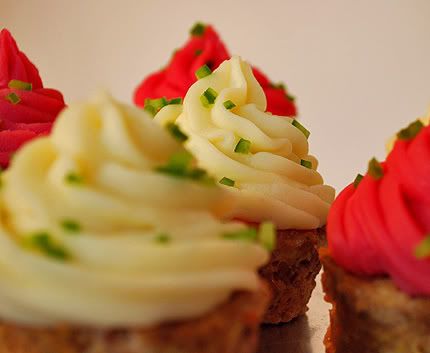 Photo: Fine Furious Life
Now here's something different: Meatloaf cupcakes with mashed potato frosting. Michele over on Fine Furious Life whipped them up for us, and we have at least one independent confirmation that they are not only edible, but delicious.
Okay, I'll happily bite, but without the half-bottle of red food coloring, please.
Runners-up in the Weird Cupcake Category:
And over here, in a separate, "Impress the nearest 8-yr-old boy" category, we have
all from Epicurious.com.   Give me an "Eww!!" 
—————————–
Related Posts:
Why Cupcakes?
Cupcake Competition
Cupcake Art: I'm Hooked On Polyvore